Branding is the relationship, perception and connection between your business, message and customers.
The Value of Branding
Branding and identity should be the first step in any marketing strategy. In the digital world where competition is rife and consumers are spoilt for choice, branding is your most important asset for conversion.
Get your branding right and you will be rewarded with high quality relationships with customers who love, share and spread your message for free.
The clothes you are wearing, your mobile phone, the supermarket products you put in your basket... You didn't just buy these by accident.
This is what we do, strategic branding that brings your product or service to life, and resonates with your target market.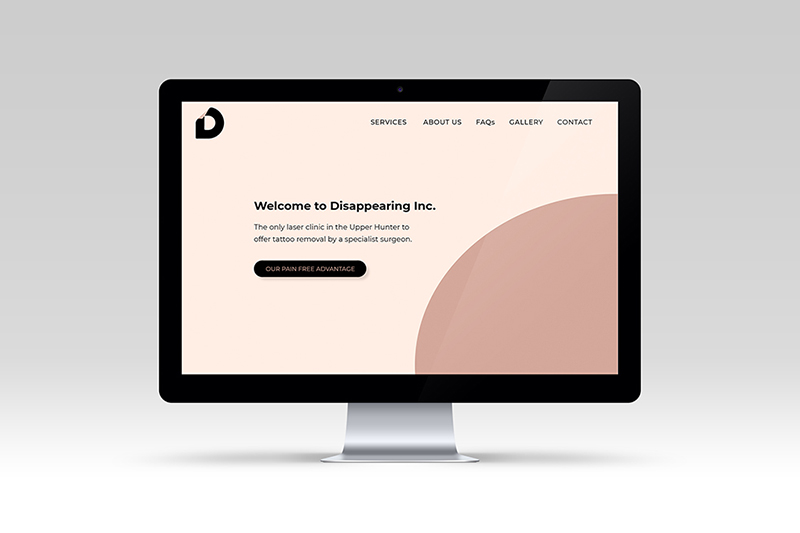 On the surface, a brand is simply a name, logo and selection of colours.
Diving deeper, brand development is about building an emotional connection with your target market through calculated research, discovery and a consistent message.
Branding is our specialty.
Case Study.
The Client
Disappearing Inc. is a new medical clinic offering the latest techniques in tattoo removal, performed by a surgeon.
The Goal
A clean, simple brand design for a premium market. Disappearing Inc. represents a higher-end medical clinic that differentiates from a walk-in parlour operated by beauticians.
The Outcome
A bold, playful yet refined brand concept that represents clean and effective tattoo removal.
Our Branding Process
Our process starts with getting to know where you are coming from and where you want to go. Our research dives into the core of your target market, defining their wants, needs and how your offering will provide the solution.
Some of the key assessment areas include:
This is where we start mapping out and developing your identity. Determining your strengths and how you will best service the market.
This includes:
The outcome of this step is an entire persona for your brand. It is a unique, visual and verbal toolkit for consistency. Your Brand Identity will used for all your activities including marketing campaigns, social media, web presence, print collateral and customer communication.
You can expect your unique brand identity to include:
Get serious about your brand & identity